Theme Essay by Fran Cronin
A Profile of Con Chapman, E-Book Indie Author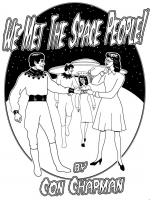 Sitting down with Con Chapman is like attending a seminar on self-deprecating humor sprinkled with the history of self-publishing. A lawyer by day, Chapman is most of all a topical satirist who enjoys writing light verse, a poetic form he says is "dead."
But don't tell that to Amazon.
To date, the 59-year-old Chapman has published 36 e-books through Amazon, ranging in length from 50 to 200 pages. They sell for 99 cents each. It's a marketing ploy he and a growing number of indie authors have borrowed from iTunes. Because such digital publishing sells fast and downloads easily on devices like Kindles and iPhones, Chapman likens himself to authors who produced the penny and dime novels of the past.
"This is the dawn of a new reading medium for unknown authors," he says wryly. "Not [high] art, but a lot of quantity."
I first met Chapman last November in the austere wood-paneled conference room of the downtown law firm where he works. The room felt like a metaphor for his attitude about writing and publishing. It's an overtly corporate setting, yet Chapman was relaxed, chatting in his shirtsleeves and fleece vest while munching on his usual Caesar salad wrap.
"Things I touch go under," he said then, barely containing a chuckle. "I work in the insolvency area."
A self-described "Boston-area prize-losing" author, Chapman is a master at deflecting serious intent. He says he aims no higher than to get laughs from his writing. Although the penguin is his "totem" (remember the Rufus Thomas song "Do the Funky Penguin"?) the animals Chapman really likes to write about are cats.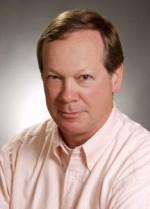 In his 2010 e-book anthology Cats Say the Darndest Things (Kindle edition: 99 cents), Chapman's affection for the furry felines is on full display, as is his wit.
"The beauty of e-books is that you can add to them anytime you want," he wrote in a recent email. Chapman uploads new pieces to an e-book as he goes along, as he's done with two additions—"Poetry for Cats" and "Estate Planning for Cats"—that appeared on his Open Salon blog after he'd already published the anthology.
"This capacity also allows me to fix typos and even (I kid you not) change names to spare people's feelings," Chapman says. "A guy in Florida wrote to me to complain that one of my character's names was the same as his and it was causing him embarrassment when people googled him—so I changed it."
Chapman peppers his conversation with anecdotes about famous writers and has a particular affinity for Mark Twain. Like Chapman, Twain hailed from Missouri and was a self-publisher.
Distrusting traditional publishing houses, Twain not only printed his books but promoted his writing through speaking engagements across Europe and the United States. He sold advance copies of his books by subscription.
Chapman, too, expresses dismay with traditional publishing. He's gotten little joy from submitting his work to literary publications.
"This year, I decided to do a Petraeus-like surge to see whether I could actually get a poem published," Chapman says. After sending out "probably 200 poems," he finally learned that one—"Lines in Contemplation of a Tragic Accident"—will be published by the Chicago-based Light magazine, which bills itself as "the only publication in America to print funny, topical, and above all readable poems."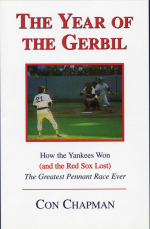 Although Chapman likes to write light verse, not all of his work is poetry. His first book—The Year of the Gerbil, about the 1978 rivalry between the Red Sox and the Yankees—was released in 1998 through a small, now defunct publishing house in Connecticut. Out of that 2,000-book run, Chapman subsidized half the copies. He still sells The Year of the Gerbil through Amazon for $5 and fills book orders himself from an inventory he keeps in his garage.
Even a decade ago when DIY books weren't considered cool, he says he loved publishing it. He designed the cover himself. He used two cartoonists. "So did Twain!" he adds.
When the Kindle launched in 2007, Amazon created its Digital Text Platform, making it easy for self-publishers like Chapman to distribute e-books. Amazon now carries one of the largest collections of self-published titles.
In an Amazon press release on April 26, 2011, the company announced that its U.S. Kindle Store offers more than 900,000 books—everything from indie titles to New York Times bestsellers. That number (which doesn't include the millions of free, pre-1923, public-domain books that can be downloaded on a Kindle) appears to rise every day.
It's no longer shocking news that traditional book publishing is in trouble. In "E-book Sales Explode in February as Other Segments Sink," Publishers Weekly reported last month that e-book sales for January and February of 2011 for sixteen members of the Association of American Publishers (AAP) had gone up by almost 170 percent—to $164.1 million—and equaled trade paperback sales for those publishers during the same period.
A recent Wall Street Journal article added to the chronic stream of e-book stories by pointing out that fifteen of Amazon's top fifty digital bestsellers cost five dollars or less ("Cheapest E-Books Upend the Charts").
Chapman has been carried along on the crest of this trend. Like many of Amazon's e-book authors, he has captured an online following through his regular blogging, appeal to readers, and ability to keep his work affordable.
He likes to undersell his talent, but his discipline and prolific output belie his nonchalance. Chapman says he tries to post something "every working day." He's written almost 1,500 blog posts in the last five years (as of late April 2011, the count was 1,473).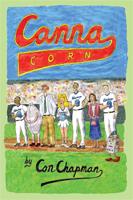 His count for e-book sales? Chapman says the Amazon tracking system makes that hard to calculate but claims he makes as much each quarter from his e-sales as he does writing a freelance column for the site Does this Make Sense? Most important, Chapman adds, his e-sales are growing steadily: "That's why I'm focusing on it rather than beating my head against the literary-agent submission wall." I imagine him posting a light verse or two about e-book authorship on one of his blogs. Consider this excerpt from "Several Ways of Choosing a Wife," a 2010 "ode" on his Gerbil News Network:
Here's a helpful suggestion for choosing a wife— Don't pick from the bin that says 'Tragic view of life.' 
 Sure, she'll share your love of Friedrich Nietzsche, 
 But I find that kind to be overly prietzsche."
---
Con Chapman's Easy Guide to Self-Publishing
Prepare text in a Word or PDF file.
Upload text on the Amazon Digital Text platform or other e-publishing platform.
If you want a cover photo—and this is highly recommended—you can use your own or pay for a stock photo (the latter typically costs between $4 and $6).
Download photo from your computer or stock photo site, then upload it to the e-publishing platform.
Write an introduction/summary to attract customers.
Choose your royalty option—from 35% to 65% of the retail price you set.
Hit "Publish."
Note: If you're using Amazon's platform, make sure your new e-book shows up on your Amazon author's page. This is not always automatic.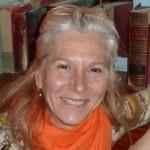 Fran Cronin is marketing manager and a contributing writer for Talking Writing.
"Being of a 'mature age,'" Fran says, "and realistic about starting a writing career when other people are thinking about retiring, self-publishing makes perfect sense for me. After all the sweat equity needed to craft a book, I'd like to be alive when it goes to print."
"The first time I tried to give away his clothes, I broke down in tears. I had barely pulled away from the curb when I turned around and retrieved all I had left at the used clothing consortium. Once back in my possession, they were sentenced to a decade of confinement in a dusty box."
— "Widow Books"