Ida Mae's Quilt: Lady Fern
Ida Mae stitches sea-foam green throughout her favorite quilt.
When springtime sun hits the cloth at just the right angle,
deep collard-colored veins split skin,
while white powder puff clouds kiss cotton candy blue borders.
Ida gets lost staring at that sky. That sky frames trees;
those trees become chartreuse algae hanging from an ocean of cloth,
its cover so bright it lights her room at night.
Ida spends hours cutting fabric.
Her fingers trace perennial lacy fern-green leaves;
delicate stitching extends over swatches of cloth;
sturdy tentacles push up and out through cracks in rock, cloth, even skin.
Ida's fingers, worn from sewing, cutting, stitching,
seek moistness, trace delicate fingertips upward,
as new fronds sprout from her fingers.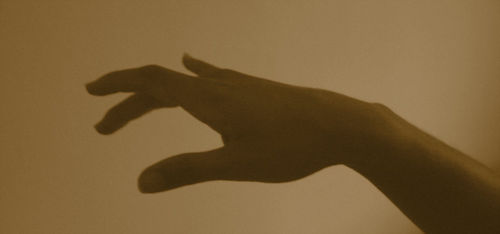 The Place Where Pulse Begins and Ends
My turquoise veins push through
burnt-orange, pale-pink sliver of skin.
The kaleidoscope of my wrist
captured on an artist's canvas.
The inside of this wrist holds memories:
lips flushed against the palimpsest of my arm.
An imprint of fingers burrowed in wrist.
Did she know this arm is where you planted kisses?
Frozen now: those translucent fragments of color;
viridian green, cobalt blue, and titanium white;
pieces of pulse barely discernable
beneath layers of pigment.
The only thing missing: your lips
warm against the canvas of my skin.
Brush strokes, a blend of wet tears, wet oil
floating amidst an oval frame.
This canvas captures:
earth's pigments, speckled spots,
those hollow spaces you once called home.
Memories excavated for all to see.
When light hits cloth
all that is left is
pulse tendon bone,
a lover's lips buried beneath raw umber.
---
Art Information
---
JP Howard, aka Juliet P. Howard, is a poet, lawyer, Cave Canem Fellow, and native New Yorker. She was selected as a Lambda Literary Foundation 2011 Emerging LGBT Voices Fellow, as well as a 2011 Cave Canem Fellow-in-Residence at the Virginia Center for the Creative Arts. JP was a finalist in the Astraea Lesbian Writer's Fund 2009-2010 poetry category and recipient of a Soul Mountain Retreat writing residency in 2010.
Her poems are published or forthcoming in Muzzle Magazine, Connotation Press, TORCH, Queer Convention: A Chapbook of Fierce, Cave Canem Anthology XII: Poems 2008-2009, Cave Canem XI 2007 Anthology, The Portable Lower East Side (Queer City), Promethean Literary Journal, and Poetry in Performance. She co-founded Women Writers in Bloom Poetry Salon and Blog, a forum offering women writers at all levels a positive and critically supportive place to come together.
The photograph of JP Howard is by Rachel Eliza Griffiths.
---