Twenty-Four Hours
The bracelet strung with beads of volcanic ash
is my keepsake. We retrace our steps
from the Basilica to the Prato on Padova's
worn pavement, dragging heavy suitcases.
Back home, snowdrifts collapsed, clematis
vines broke their teeth, little trowel tips,
their spines fringed and illuminated.
Here, in twos and threes, friends cross the piazza
until we are twenty, cocktails and spritzes
scattered along conjoined tables.

We excavate two years: shops closed,
custom trousers auctioned off, little girls

driven into womanhood. We savor meat

and bread, walnuts, later, on crostoni

with hot honey. We interpret from French,
Italian, English—words getting under our skin.
Before parting we sing under the stars.
It takes two taxis and only twenty minutes,
hair flying, chocolate and olive oil rolled
in packed clothing, to cross town—

train catchers on our way home.
---
Art Information
"La Piazza"

© Roberto Taddeo; Creative Commons license.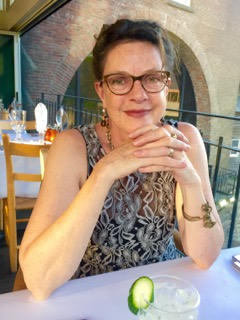 Giavanna Munafo teaches in the Women's, Gender, and Sexuality Studies department at Dartmouth College in Hanover, New Hampshire, and provides consulting services focused on diversity and equity to educational organizations. Her poems have appeared in Slab, Bloodroot, New Virginia Review, and The Nearest Poem Anthology (Cedar Creek Publishing, 2014).
Giavanna holds a B.A. and Ph.D. from the University of Virginia and an M.F.A. (poetry) from the University of Iowa.