TW Column: Talking Art
By Judith A. Ross
---
"If you write for teens or preteens, you have to think like them," says Mary Newell DePalma. "I think like a third grader. They are my people."
The silvery hairs sprinkling her pixie haircut reveal the decades that have passed since DePalma's own third grade days. But this Boston-area children's book writer and illustrator clearly knows how to capture a child's world.
In November, I observed her in action as she shared her creative process with a group of kids, aged five to twelve, at the public library in Waltham, Massachusetts.
Her presentation was called "Creating Books." From the start, the energetic DePalma had these vociferous youngsters hooked.
In describing her own approach, she broke down a complex process into its essential steps. Kids aren't the only ones who can benefit from viewing creativity in this way.
Step 1: Think
DePalma closed her eyes and tapped her chin. She joked about how her own children used to think she was sleeping when she did this. But before long—bingo! She had an idea for a book about a tree.
Step 2: Brainstorm
The next step is to identify possible storylines. DePalma drew different types of trees in different settings on an easel pad to illustrate.
Step 3: Field Research
Go outside, look at trees (maybe stop for coffee).
Step 4: Library Research
Look at books, too. "I like the ones with pictures," DePalma told the kids.
Step 5: Imagine
For the narrative, she posed this question: "I'm in the story; what do I see?"
This idea eventually became her 2005 book A Grand Old Tree, published by Arthur A. Levine Books (an imprint of Scholastic).
DePalma then demonstrated how what she had imagined ended up looking different on the page. She first drew her own head with a large, leafy tree inside it. Next, she drew the elements of her imagined tree, but broken up, illustrating the difficulty of translating what's in your mind into an image on paper.
Her editor—sort of like a teacher, she said— helped her to solve this creative dilemma. She marked up the drawing on the easel pad as he would, with arrows and suggestions for how to pull the pieces together into a coherent whole.
After her presentation, DePalma told me that a good picture book works on three levels: "It should be a fun story. It should have appealing characters who you care about. And it should demonstrate some true thing about the world."
For example, in her latest book The Perfect Gift (Arthur A. Levine Books, 2010), a winged heroine named Lorikeet must sacrifice something precious to save her friends. In the end, the perfect gift turns out to be something other than what Lorikeet originally intended.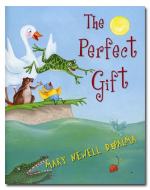 DePalma's route to illustrating and writing children's books was nearly as roundabout as Lorikeet's. She started out learning medical illustration and tried other kinds of commercial art as well. "I drew objects ranging from cans of shrimp to apartment buildings to catheters," she says.
Then she turned to textbook illustration. "I had learned to draw static objects," she notes. "Now I needed to be like a movie director and create costumes, lighting, and action." An assignment illustrating a set of folk stories gave her the opportunity to learn on the job.
She began sending her illustrations to publishers. One editor urged her to write stories to go with them. Thanks to some encouraging rejection letters (remember: editors are like teachers), her first story, The Strange Egg (2001), was eventually accepted. Since then, she has published five of her own books and illustrated numerous others.
What's the difference between illustrating her own work and someone else's?
For another writer, "you have to create their world," she says. "Their words have to give you enough room to create a world."
The going isn't always smooth. "Some writers say too much in the text," DePalma adds, "so the editor will have to take out descriptions of things I have shown in the picture. When I do it myself, I understand how that works. It's like haiku. You carefully select your words."
Her own small, quiet stories focus on characters who are impressed by the wonder around them. She changes the visual language for each, using a variety of media. "They each need their own dialect or language," she says.
In addition to two books with her illustrations coming out in 2011, DePalma has another story of her own that will be published next year by Eerdmans Books. Titled Uh-Oh, the text includes just that one word.
"I set myself the challenge of doing an almost graphic novel," she quipped.
Visit Mary Newell DePalma's website to see her online portfolio and a bibliography of the many books she has illustrated.

---
Judith Ross is managing editor of Talking Writing. Like DePalma, she fuels her "field research" with caffeine and depends on editors to help her turn her ideas into a coherent whole.
"On a recent walk in the woods, I let my mind wander to the point that when it returned, I had no idea where my legs had taken me."— "Attention Please!"
---