TW Opinion by Martha Nichols 
Goodbye, Print Newsweek—and Good Riddance
---
Thanks to Forbes, we now have a definition of "magazine." Editor and author that I am, I've been worried for decades, but here's Jeff Bercovici in Forbes last week, weighing in on the announcement that Newsweek would no longer produce a print edition: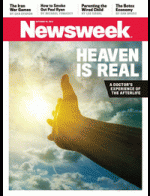 Newsweek, one of the most iconic and celebrated magazines there is, will very soon not be a magazine at all. As of the end of 2012, it will be website, and a mobile app, and a conferences business, but it won't be a collection of articles printed on paper.
According to this reasoning, a magazine has to be printed on paper. Never mind that it relegates Slate, Salon, Talking Writing, and hundreds of other online-only literary magazines to the shady category of "website" and "mobile app." Forget that every slick magazine on a newsstand now has a digital edition.
The change at Newsweek isn't shocking to anyone in the industry. Still, the Forbes piece and others resurrected hand-wringing about the death of print magazines, especially newsweeklies. As the Week puts it, the shift to an all-digital Newsweek marks "what feels to many media pros like the latest step toward print's inexorable death."
Yes—and so what? Reincarnation online is an act of mercy for Newsweek's foundering print edition. While I love glossy layouts, reducing the label of "magazine" to print publications struggling to sell ad pages misses the point. What matters is not the demise of print but the potential to make magazines better.
From where I sit at TW, the magazine medium is making a comeback in new and wonderful formats. But before I get on my high horse and gallop away into cyberspace, let's hear what Tina Brown, editor in chief of the Newsweek Daily Beast Company, has to say about what's to come at Newsweek:
Exiting print is an extremely difficult moment for all of us who love the romance of print and the unique weekly camaraderie of those hectic hours before the close on Friday night. But as we head for the 80th anniversary of Newsweek next year we must sustain the journalism that gives the magazine its purpose—and embrace the all-digital future.
Note that she and her coauthor, CEO Baba Shetty, don't call digital Newsweek (which will become Newsweek Global) a website. "We are transitioning Newsweek," they write, "not saying goodbye to it."
Now, to be fair to those who don't call digital editions or news sites "magazines," organizations that measure conventional circulation, such as the Audit Bureau of Circulations and the Pew Center's Project for Excellence in Journalism, still focus on print editions. Once U.S. News and World Report went all-digital in 2010, for instance, the Pew Project stopped tracking it in its annual report on the news media.
But as with the death of the novel, the death of the magazine is greatly exaggerated. In fact, it's plain wrong. Magazines have always been hybrid forms driven by particular editorial agendas. There are weeklies and monthlies and quarterlies. They combine opinion and advice pieces with personal essays and standard journalistic features and news. There's the typical magazine mix, and then there's every variation, from Family Circle to the New Yorker to Mother Jones to Vogue to the Paris Review.
Consider the transformation of the venerable Atlantic, which Atlantic Media owner David Bradley claims has been profitable for the past three years, largely because of its digital edition (TheAtlantic.com) and affiliated sites like Atlantic Wire. A recent New York Times article about Bradley quotes him as saying:
"In a sense, I was born 50 years too late…. [A]fter I took over The Atlantic [in 1998], I quickly began losing $8 to $10 million a year. It was not a sustainable business, no matter how much I loved being part of it…. It's become very, very clear to me that digital trumps print, and that pure digital, without any legacy costs, massively trumps print.
He's not the only one who sees the virtual writing on the wall or acknowledges what digital versions mean for magazines. Online publications expand the form with multimedia graphics, podcasts, and opinion blogs. Kindles, iPads, and other tablet devices mean a new "delivery system," in Tina Brown's terms. And whatever you think of comments by readers, online discussion of hot-button magazine articles has led to new attitudes about who gets to control the facts and the official story.
Brown and Shetty admit that axing Newsweek's print edition will lead to layoffs—and the continuing erosion of journalism jobs is not good news for anyone. But as the ascent of e-books indicates, digital publishing offers fresh opportunities for writers and journalists, too. As Brown told Reuters in a recent interview, "When I returned to print with Newsweek, it did very quickly begin to feel to me (like) an outmoded medium."
Indeed, the real questions hovering over Newsweek's future are about its identity and integrity as a magazine. Despite her public statements supporting Newsweek's journalistic mission, Brown has been criticized for sensationalizing recent covers and feature topics. Blogger John McQuaid (also in Forbes) pins down the trouble:
In [the] Tina Brown era, supposedly the dawn of a new attitude, Newsweek has gyrated through a series of increasingly embarrassing attempts to goose its traffic by trying on different attitudes like cheap suits.
Any periodical that publishes for decades will revamp its look on occasion. But a clear voice has to be at its core. That's the reason-to-be for any magazine, whether it's profit driven or a labor of love that relies on donations.
When Elizabeth Langosy and I kicked off Talking Writing in 2010, we did so because we believed in creating a new kind of magazine, one that could make use of social media to increase the audience for literary work and journalistic features. There's never been a print edition of TW, and we're grateful to the digital technology that's made it possible for two professional editors to start a magazine without all the upfront costs—including the need to shill for advertising—that launching a print publication entails.
So, like many other longtime magazine folks, I'll feel a little mushy when I buy the last print edition of Newsweek in December, but I'll be far from grief stricken. I'm full of questions about digital magazines, yet this new medium thrills me, too, in a way that I don't remember ever feeling during my career in print publishing.
TW is a nonprofit literary magazine rather than a newsweekly, and we face a very different set of challenges in 2013 than Newsweek Global. But regardless, what makes a magazine a magazine is not just "a collection of articles" or words on paper—it's the editorial selection, presentation, and intent behind each issue. It's the strength of the writing and the journalistic oversight.
That's why we still read magazines—for the voice and the viewpoint (and, okay, for the pretty pictures). That's why we subscribe and keep coming back, over and over again, whether we're turning pages or clicking links.
---
Publication Information
---
Martha Nichols is editor in chief of Talking Writing. She's also a longtime contributing editor at the Women's Review of Books.
"If human beings were perfect, there would be no stories. Most narratives derive their tension from somebody making bad decisions or ending up in a scary place. But how can you overcome something if there's nothing to overcome?" — "The Devil Made Me Write It"
---