By Nikki Stern
Embracing Indie Publishing
I spent four years working on a different kind of book about being a 9/11 widow, one that played with the notion of moral authority—for victims, heroes, or anyone else. It concluded with a challenge to reject absolute certainty but to retain and embrace a hopeful outlook.
Buoyed by praise from acquaintances and positive feedback from editor friends of mine, I began to approach agents and publishers…and hit several roadblocks.
There was concern that I didn't have a large enough "platform"—the near-ubiquitous industry term that refers to a writer's built-in audience. Popular teachers, television chefs, and bloggers have large followings that translate into potential sales. I didn't.
I was also told my book would be difficult to classify. The Book Industry Study Group (BISG) establishes the main marketing categories—anything from "Antiques and Collectibles/Buttons and Pins" to "Political Science/Labor & Industrial Relations"—used by wholesalers and retailers to position books for consumers. Philosophy? Social Science? My hybrid book was a challenge.
Oh, boy. After years of hard if exhilarating work, I now had to build my blog audience, extend the "Nikki" brand (an idea that felt awkward), and revamp my book to squeeze it into a category. All so that I could sign away everything but a 10- or 15-percent royalty payment on the profits.
More frustrating still was the theoretical timeline: First, I'd need to convince an agent or publisher that my book was marketable; then the publisher would need months, maybe years, to market it. Meanwhile, Snooki would probably score her second book deal.
So I looked at (gulp) self-publishing.
Why "gulp"? Honestly, I didn't want to be seen as some deluded novice engaged in a "vanity" project. Yet I had confidence in my material, and I could see that quality alone isn't what drives the increasingly desperate traditional houses.
I began by researching self-publishing companies, looking not only at services offered but also the contracts. When you're fronting the money, it's crucial that you understand what you're getting and what you're holding. I chose Mill City Press, because its business model allows the author to retain all rights and to receive 100 percent of the profits.
After reviewing my book manuscript, Mill City placed me with its most "prestigious" imprint, Bascom Hill. This ladder system of imprints is now common to many self-publishing companies. The idea is to distinguish serious writing from the amateur project. Authors chosen for more exclusive imprints might receive more "professional" editing by senior staff members, a custom cover design, or wider distribution. I had access to these services as well as a dedicated website and three months of focused publicity. Such services appear to mimic those offered by traditional publishing houses with one key difference: the author pays for them.
I wanted the best for my book, so I took full advantage of Mill City's services. At first, I referred to my arrangement as "partnership publishing," which I thought conveyed the sense that I had been "selected." Gradually, my self-consciousness dissipated. I'd written a good book. I had a good product. I was taking control of both the process and my career.
This was in 2009, when, according to "Bowker Reports Traditional U.S. Book Production Flat in 2009," self-publishers and "micro-niche" publishers produced 764,448 titles—a 180% increase over the previous year. The 2010 Bowker report is likely to show a further increase.
As the numbers grow, so does the recognition. There are literary competitions and prizes for self-published books; even Kirkus is now selectively reviewing books from non-traditional publishers.
Local bookstores will often carry indie work by local authors. Labyrinth Books in Princeton, for example, has carried my book ever since I gave a presentation there last year. At some point, perhaps the New York Times will include popular Kindle books in its "best sellers" list.
As e-readers continue to encroach on the book market, indie publishing looks even more appealing. Little overhead, savvy marketing, and low pricing can sometimes combine to produce impressive profits. In January, Novelr, a blog dedicated to Internet publishing, highlighted several successful e-book author/publishers, including Amanda Hocking. In "Authors Catch Fire with Self-Published Books," USA Today reports that Hocking sold nearly a half million Kindle copies of her paranormal thrillers in one month.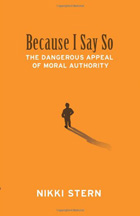 In June 2010, my title, Because I Say So: The Dangerous Appeal of Moral Authority, was released less than a year after I began working with Mill City. I've just converted Because I Say So to an e-book, learning even more about the rapidly changing world of reading, writing, and promoting. I'm excited by the idea that I can set a much lower price for it; promote it through Facebook, other social networks, and my blog; and potentially reach a larger audience.
I still have days when I doubt the wisdom of my choice. Maybe I should have been more patient, more persevering in my search for just the right agent or publisher.
It's a lot of work to attract an audience on your own; you never stop promoting. Even indie author Hocking has just signed a four-book deal with St. Martin's, to the great consternation of her fans.
As much as I tried to keep my own expectations within bounds, there have been some disappointments. The distributors failed to place my book in a single retail store. I succeeded in getting it into individual stores like Labyrinth and in a variety of local libraries through my personal network of friends around the country.
As for a book tour, there wasn't one—at least not in the formal sense of the word. I booked myself for various engagements and sold books at those venues. I now realize I might have saved money on public relations. Although I did get a few radio interviews through the company, most of my success was related to my own efforts. And no, I haven't broken even yet.
But self-publishing has also given me new opportunities. I've been invited to speak at functions. I've widened my circle. I'm taken more seriously as a writer and as a thinker. I've gained more confidence. At a recent presentation in New York, I met a book agent who said she wanted to work with me. I've got a project in mind—but first I've got to finish publishing a collection of short essays for the Kindle.

---
Nikki Stern is the editor-in-chief of Does this Make Sense?, and the author of Because I Say So: the Dangerous Appeal of Moral Authority, which is available in print and as an e-book. She is a member of the Speakers' Bureau of the Center for Inquiry, based in Washington, D.C.
"Andy Warhol talked about 15 minutes of fame. Not only does everybody get it, everybody wants it. Everybody expects it, and it's become easier than ever to achieve…. Now if you want to be famous, make a YouTube video, pitch an idea for a reality show. Celebrity is cheap, and it's democratic."
— Nikki Stern, from her 2010 TW interview "Imagine People Being Tossed by Waves"
---
Photographer

Jeff Shelden is an architect in Montana. He carries a camera to document his sense of awe and wonder at the man-made world. You can see more of his photos on his blog Heartland.
Jeff says he self-publishes "because I couldn't stand the thought of all those images, many of which are quite beautiful, moldering in the bowels of my computer. Better to put them out in the ether for random discovery. It's kind of like being a street artist, but without the vandalism."
---