By Martha Nichols
A Fond Good-bye to a Snappy Writer: 1941 – 2012
She was only 71, which seems young. Too young! Nora Ephron's vibrant, cutting, tart voice was unusual enough in the 1970s; now, in the dreary post-feminist world, I'm sure she had a whole lot more to say.
Like so many others who have mourned Ephron this week, we at Talking Writing are saddened by her death. It's hard to believe she's no longer kvetching and skewering so many things that need skewering—always with a pretty wink.
In 2009, after directing Julie & Julia, Ephron did the publicity rounds, raving about her love of gourmet eating. In the TW column "Drenched in Butter, Filled with Zest," Emily Toth encourages us to "swoon" with the film and Julia Child and the "fabulous foodie Nora Ephron."
And that's the deal you make with Ephron: She's funny, she loves to eat, she talks and talks and talks, but underneath her avid grasp of traditional fame and fortune is a sharp analysis of those in power. A.O. Scott's review of her movie for the New York Times pins down Ephron's knack for combining frothy lifestyle, comedy, and social commentary:
Julie & Julia proceeds with such ease and charm that its audacity—a no-nonsense, plucky self-confidence embodied by the indomitable Julia herself—is easy to miss. Most strikingly, this is a Hollywood movie about women that is not about the desperate pursuit of men."
A friend gave me Ephron's 2006 I Feel Bad About My Neck for my fiftieth birthday, which was perfect. I loved that book of humorous essays, even if I couldn't embrace Ephron's need to have her hair done every week. (I live in funky Cambridge, Massachusetts, after all, not Manhattan.) In a recent Talking Writing column, "Eileen Fisher's Got My Back," Fran Cronin calls I Feel Bad About My Neck a "brilliantly titled treatise on aging," adding that it's "given me a robust appreciation for turtlenecks and neck-hugging scarves."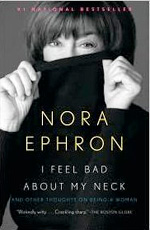 In fact, I like Ephron's take on crepey necks and the dubious position of powerful older women in the entertainment industry far more than Tina Fey's Bossy Pants. Fey is in many ways a worthy bearer of the Snappy Writer Lady torch, but her jokey girlyness about Alec Baldwin (just for starters) makes me keenly miss Ephron.
In honor of her passing, I'd like to run a longer quote from another TW column that lauds Ephron. In "The Search for a Snapper," Emily Toth notes Ephron's "audacity," too. I don't think it's an accident that Ephron, whether bescarved or with her verbal knives out, has been tagged with this word.
Here's Emily, referring to an essay in the classic Ephron collection, Crazy Salad:
There's also an audacity in the best writers. I'm still wowed by Nora Ephron's conclusion to her 1975 essay, "A Few Words About Breasts," a lament about being flat-chested in a mammary-fixated world.

Many have told her that breast size doesn't matter, Ephron writes. Her almost mother-in-law advises her to be on top, so he won't notice. Others say that people should love you for your qualities of personality, which are the eternal verities that matter. Ephron says:

'I have thought about their remarks, tried to put myself in their place, considered their point of view. I think they are full of shit.'"
Oh, we will miss you, Nora. More's the pity, I think younger women will, too, but you won't be around to tell them why.
---
A Few More Words About Nora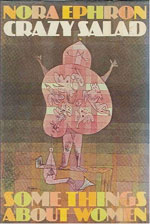 Nora Ephron was born May 19, 1941, and died June 26, 2012, of "pneumonia brought on by acute myeloid leukemia" (see her obituary by Charles McGrath below).
"Drenched in Butter, Filled with Zest" by Emily Toth, Talking Writing, November/December 2011.
"Eileen Fisher's Got My Back" by Fran Cronin, Talking Writing, November/December 2011.
"The Search for a Snapper" by Emily Toth, Talking Writing, September/October 2011.
"Two for the Stove" (review of Julie & Julia) by A.O. Scott, New York Times, August 6, 2009.
"Writer and Filmmaker With a Genius for Humor" by Charles McGrath, New York Times, June 26, 2012.
"Dishing with the Girls…Oops, the Women" (including a review of I Feel Bad About My Neck) by Emily Toth, Women's Review of Books, March/April 2007.
Crazy Salad: Some Things About Women by Nora Ephron (Knopf, 1975).
I Feel Bad About My Neck—and Other Thoughts About Being a Woman by Nora Ephron (Knopf, 2006).
I Remember Nothing—and Other Reflections by Nora Ephron (Knopf, 2010).

---
Martha Nichols is Editor in Chief of Talking Writing. Note the turtleneck in this picture.
In the late '70s, Martha read Crazy Salad and hooted in solidarity with "A Few Words About Breasts." She thanks Emily Toth for nudging her about the various TW columns that mention Nora Ephron.
"Years later, I can still picture the yellow-ochre building outside our apartment, the swifts flitting past, my toddler son's joy at riding the black horse on the nearby merry-go-round. I don't just have photographs or neatly organized descriptions; I have images sharpened by strong emotions."
—"My Search for Solitude in an Online World"
---